Cherry Kisses - Soy Wax Melts
Customer Reviews
30/11/2020
Ashleigh J.
United Kingdom
Obsessed
I don't think I've picked a bad wax melt yet from this company! ☺️ The cherry ones are especially nice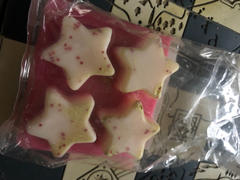 13/10/2020
Allison H.
United Kingdom
Cherry Kisses was melt
As always, loved the initial smell, but did feel Cherry Kisses did not last as long as the others I have bought from you. i.e. Lime/Vanilla, Lemon Grass/Ginger, Strawberry/Rhubarb. Bearing in mind I burn the melts, intermittently, from when I get up to when I go to bed, probably 4 days a week, and I normally get the smell of 1 star to last 2 to 3 days. Cherry Kisses only seemed to last 1 day, then I had to add another star.
23/09/2020
Jemma W.
United Kingdom
Really good
They are really nice and you get great customer experience