Cherry Kisses - Soy Wax Melts
Cherry Kisses - Soy Wax Melts
Regular price
Sale price
£2.99
Scent Description:
A fun fizzy fruity fragrance of cherries, pineapple, rhubarb, strawberry, peach, berries and almond supported by sweet juicy citrus notes of orange and lime along with clove, sugar and vanilla.
Directions 
Simply snap off a piece of the wax bar and place onto the wax burner. 
Cherry Kisses - Soy Wax Melts Safety Information
Customer Reviews
Write a Review
Ask a Question
30/11/2020
Ashleigh J.

United Kingdom
Obsessed
I don't think I've picked a bad wax melt yet from this company! ☺️ The cherry ones are especially nice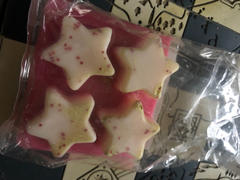 13/10/2020
Allison H.

United Kingdom
Cherry Kisses was melt
As always, loved the initial smell, but did feel Cherry Kisses did not last as long as the others I have bought from you. i.e. Lime/Vanilla, Lemon Grass/Ginger, Strawberry/Rhubarb. Bearing in mind I burn the melts, intermittently, from when I get up to when I go to bed, probably 4 days a week, and I normally get the smell of 1 star to last 2 to 3 days. Cherry Kisses only seemed to last 1 day, then I had to add another star.
23/09/2020
Jemma W.

United Kingdom
Really good
They are really nice and you get great customer experience
Please not due to the UK National lockdown we are only despatching orders twice a week on Wednesdays & Sundays. You can find more information HERE.